Bands
---
Here you have the bands...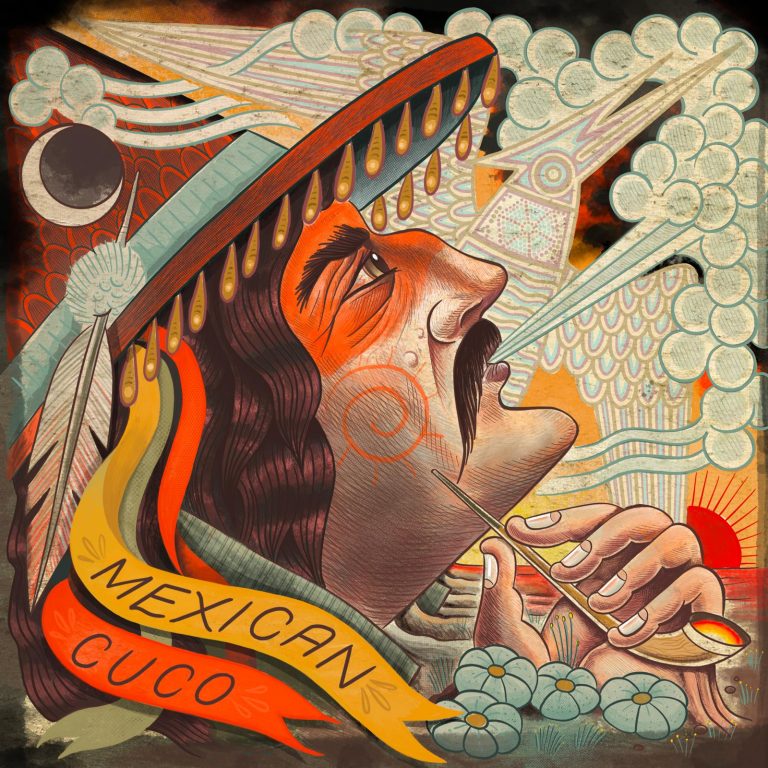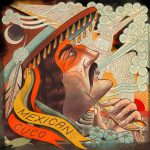 MEXICAN CUCO
Super group and amazing record. Four musicians from Barcelona created MEXICAN CUCO as a side project of their respective bands with the aim of doing quality instrumental stoner music.
They recorded an EP with five instrumental songs, on a single night and in a single take, like they use to say "the first take is the best take". Five instrumental hits, with spectacular recording and mixing with complete analogical equipment, were created. Some years later from this recording that never saw the light, LA FAMILIA REVOLUCION edits this explosive record that you can not miss, in a gatefold format, 12" and 45 rmp with an amazing artwork from Huga Turba. Rumors say that some of their members have been seen prowling around rock venues in Barcelona, searching for stages to perform their exciting set…
More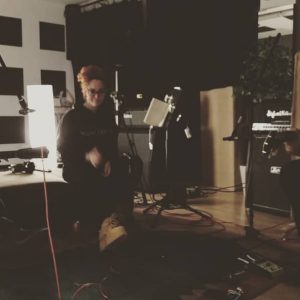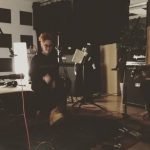 BRUHO
A trio from Barcelona founded in 2018. Their music is an elegant mixture of folk, rock and 70's music. Alba's voice, the singer, is full of touches and feelings. Nacho and his acoustic guitars offer the perfect soft and dark base that holds the thin melodies from Germán and his electric guitar. His slide technique is graceful yet classy.
SWe can find on their lyrics an introspective content about solitary characters, anguish over lost love and an uncertain future. For this edition LA FAMILIA REVOLUCION has contacted with Hugo Turba's invaluable help for the artwork, who collects this magic and occultist element that BRUHOs music has. Definitely, you'd better do not miss their release, because, and we are certain about, copies will be sold out very fast.
More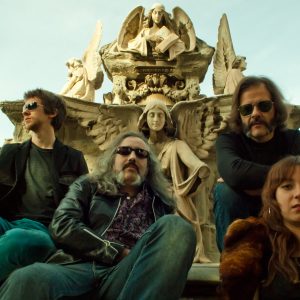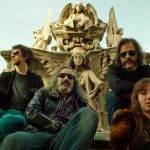 PLOMO
It was 2003 when some musicians with roots in the 60´s scene from Barcelona joined together to form a band with the characteristic transition sound in-between the late British Psychedelia, or its counterpart late 60´s American Garage Rock, and the early 70´s consolidated Hard Rock. The outcome, a genuine proto Hard Rock sound with hints of Psychedelia and Progressive Rock circa 1970. "Of Toads, Foxes and Wolves" is the posthumous legacy of Plomo, brough back to the light today by LA FAMILIA REVOLUCIÓN as a glorious vinyl LP. Eight self, original compositions of powerful Hard Rock, subtly but obviously laced with touches of Folk Rock, two steps ahead in the natural evolution line from their first work "Hard Times, Happy Tunes" .
"...in-your-face fierce hardrockers interplay seamlessly with beautiful Psych Folk numbers" "This could perfectly fit in the early 70´s catalogues of Vertigo, Harvest or Nephenta labels." "The band shows unashamedly their vast knowledge (and too evident fondness) of the genre, turning it to their own advantage" "Plomo has a great sound. Mid 70´s bared hard rock with a touch of 60´s RnR"
More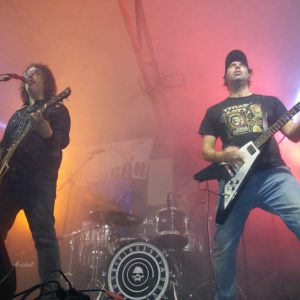 VINCENT BLACK SHADOW
Nacho and Mariano have been with the Vincent's for 20 years "in the quest for the sound" and they will still be some many more years. They named the band after a unique and legendary motorcycle and in a Hunter S. Thomson homage and his love for the BLACK SHADOW, the fastest motorcycle of his era. Their rock is packed with 70s influences such as space rock, proto-heavy psychedelic and the darkest sounds from a glorious era for music, and also for garage, 80s and 90s Stoner, hard rock and English heavy music, and definitely, all that is full of fuzz and distorted guitar sounds.
They are Nacho Oliver at the voice and rhythmic guitar, Mariano Gil on soloist guitar and chorus, Luis Cervera on the bass and chorus and David Sàez on the battery. They already have three self-released albums and a bunch of concerts all over Spain.
With LA FAMILIA REVOLUCION they just released a 45 rpm single in glorious 7'' vinyl format with two tracks from their latest 2017 CD "Nunca Mueren".
More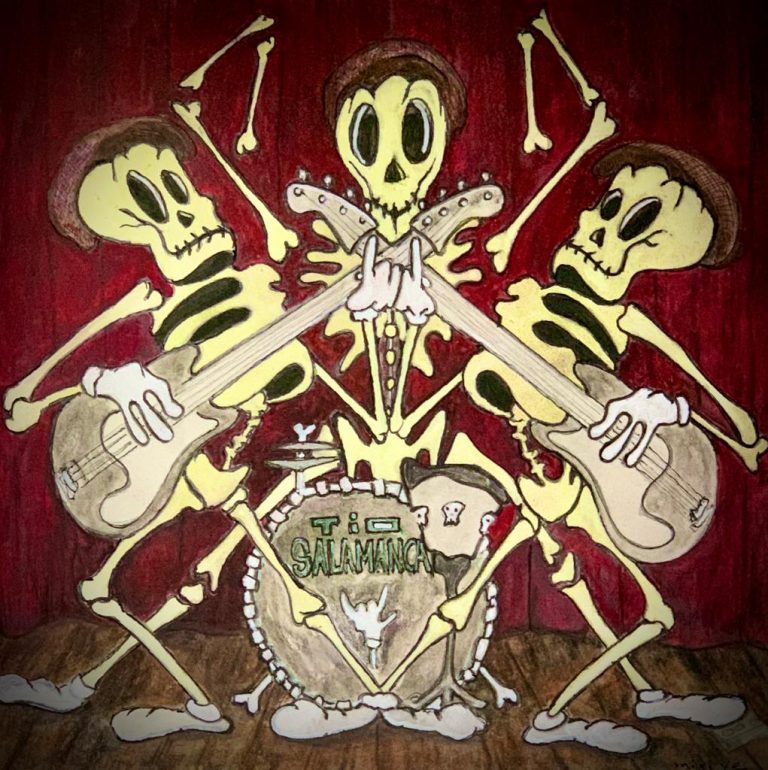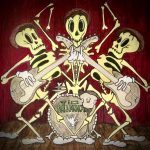 EL TIO SALAMANCA
A mixture of instrumental surf music, boggie, rock'n'roll from the 50s and dirty blues all at the max speed. An EP of 7" at 45 rpm, essential in any underground record collection.
You will discover here are three fast, direct and short songs, as it has to be within the genre. Guitars and amps with lots of reverbs and vibrators, strong basses, saxs and sharp harmonicas, sixtie's organs with lots of fuzz and percussion at frenetic rhythms. TIO SALAMANCA usually surrounds himself with experimented musicians who give him the best support in recordings and live shows. They just love this raw sound and the rocker speed. They are wild musicians!!!
More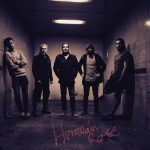 HURACAN ROSE
HURACAN ROSE is created in 2017 by some fellows from the Bilbao's rock scene who with lots of experience on other bands. This same year they release their first album "Canciones Bélicas Para Días de Paz" (War Songs for the Peace Days), recorded on the TYK Studios in Bilbao on September 2017, this will help them on their first live shows.
After the good performance of the band on June 2019, they go back again to the studio, this time to the Silver Recordings (Bilbao), together with Martin Guevara (CAPSULA), to release their new album "RARA AVIS". The album will be launched early October this same year and will have such great acceptance by the media and the public that will lead them to start a series of concerts.
In may 2020 they become part of the LA FAMILIA REVOLUCION roster from where they distribute their last project on vinyl and CD.
… a record with very personal lyrics, with love and hate in between, looking for a provocation, an anarchy, even an independency from their sounds."
"… the cyclone has moved up the category on the Saffir-Simpson scale…"
"… rock'n'roll, punk and lots of attitude…"
"… in half an hour… they oblige you to press play again"
More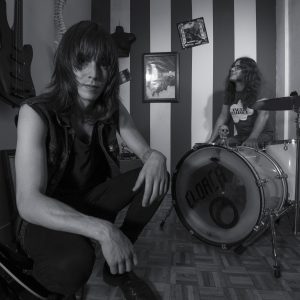 CLOACA
Bento Carroña and Rata Rai are CLOACA, power duo frpom A Coruña specialized in gloomy garage punk nuggets with some kind of surf taste, sonically raw, high octane and full of fuzz guiatrs and amazing vocal duties.
These two cavemen are really two worshippers of underground scene, debuted in 2018 with a 7 inch EP full of early garage sounds as well as elegant 80's revival. Is now in this year 2020 when they release their first LP called "VERTIDO TÓXICO" with minimal evolution from their debut, smashing our hearing with short raw and direct songs. We are about to taste one of the records of the year!
…"Here we have a sharp and powerfull LP full of massive sonic hits. They will destroy your ears, they will make you dance until you dislocate your bones and they will stablish thenselves as one of a kind copule of outsiders..."
…."Fun for sure since minute zero. These two cavemen are able to mix amazing lyrics with gritty riffs and troglodyte drum beats. The result: an ultra vitaminated cocktail of punk rock & garage".
More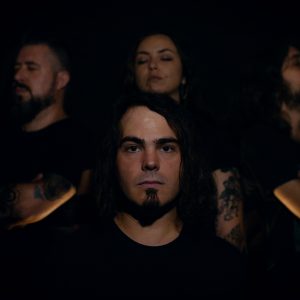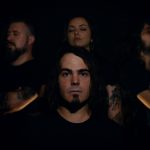 JAMES VIECO
James Vieco is one of the most interesting artist in music business in Spain these days. Former member of the late TEARS IN RAIN and current lead volcal and guitar player in the hard psych Barcelona rokers, SATURNA, is making his own solo artist career, and a pretty interesting one by the way. Two solo records, ONE (2018) and NIMAYA (2020) released by LA FAMILIA REVOLUCION RECORDS, among other Spanish independent labels.
NIMAYA is released as JAMES VIECO BAND, a full four piece combo with some of the most known and respect Barcelona based musicians from the underground scene. There is a music evolution in NIMAYA regarding ONE, from a hard rock style combined with some blues and soul, towards more 90's sounds, flirting with grunge and spiced with psychodelic hits, some dark touch and real pro music prodcution.
"…"Nimaya" is like a downhill, the emotions in the peak are huge and our best landscape while walking down the slopes" More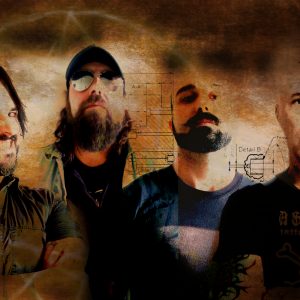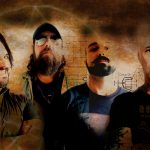 SLAVEDOWN
SLAVEDOWN is a heavy rock machine formed by four well experimented musicians sharing together their particular vission of rock'n'roll. The result is a "metalized hard rock style" full of groove. Their homonymous brutal debut comes in 2018 collecting an amazing critic and public response.
Marc Corso (vocals) Sue Gere (bass) Big Villano (drums) y Andreu Runo (guitars) are rockers on and off stage. They mix vibe and technique adding extra doses of anger and ferocity to their music under their own terms, with pown style and personality which is not very ussual nowadays They sign with LA FAMILIA REVOLUCION in late 2020, both of them eager to release their second LP in glorious deluxe vinyl + CD edition. The title "The Enemy Inside", the content, the same...high-octane guitars, raw vocals and groovy rythm section. We can't wait until first days of 2021 to listen to this new brutal sonic record.
…"The best heavy metal thing in Spain in the last deacde"
…"This project shows many different musical styles framed in a dark, opressive and gloomy environment that will trap you in pleassure".
…"If you love high-octane guitars, raw and sharp vocals, and hard & powerful sounds, this is your band"
More